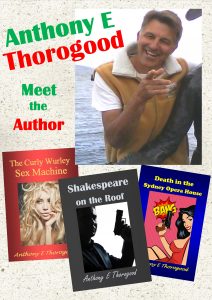 I was born in London England in 1953. Dad ran a market stall in Woolwich's Beresford Square selling anything and everything. He was a natural Cockney salesman with all the patter that goes with it but when he was told to give it up or die from the cold, we packed up shop and migrated to Australia.
Australia was great fun for a small boy from London, with snakes, kangaroos and unlimited sunshine. I went to school like most people do but I was dyslexic and didn't do well. Then, when I was 15, I taught myself to read and after that I read books, lots of books. I won a scholarship to the University of Adelaide and I started writing. I found I could write funny lines that made people laugh and I could write good dialogue.
In the late seventies and early eighties, I worked at anything and everything. I gathered together a bundle of money and went walkabout to North Africa, the Middle East, the Mediterranean, Russia, China, India, Thailand, Scandinavia, Scotland, France, Germany, Italy… and the heady heights of the northern English industrial town of Leeds.
During this time I wrote my first book: A Foxtrot Through India. I met a girl named Sue, from Yorkshire, Sue poor lass now edits my books. I brought Sue back to Australia and we bought a hundred acres in the country and spent a year building our own home from mud bricks. Then we planted apple trees and started to make cider and ran a successful cider business making the best cider in the world for eighteen years.
In my youth I always enjoyed my Dad's tales of his adventures in the navy in WWII and of his childhood hop picking in Kent and I think I got my love of storytelling from Dad. I wrote a book on cider in 2008, after being awarded a Churchill Fellowship to travel the world and drink and research cider, my book Cider Drink It, Make It, Cook with It sold out. I followed this success by writing a series of comic extravaganzas starting with: Death in the Australian Outback. These were followed in 2014 by the Jack Hamma Action Adventure series, the first book being Shakespeare on the Roof, and 2015 saw me writing three romantic travel adventures Sex Sardines and Sauerkraut, The Curly Wurley Sex Machine and Love in the Land of Milk and Honey. I have now written my Tenth Jack Hamma Action Adventure The Ten Musketeers.
My Books
Jack Hamma Action Adventures
Shakespeare on the Roof
In Bed with Jane Austen
Picnic with Picasso
Miss Marple Struts Her Stuff
Hi Jack
Poirot Packs A Punch
Licenced to Thrill
Blind Man's Bluff
Licensed to Thrill
The Ten Musketeers
Romantic Travel Adventures
Sex Sardines & Sauerkraut
The Curly Wurley Sex Machine
Love in the Land of Milk and Honey
A Foxtrot Through India
Bigfoot Littlefoot & West – Madcap Comic Extravaganzas
Death in the Australian Outback
Murder Mayhem and Madness
Murder in the Australian Back Blocks
Death in the Sydney Opera House
Murder Moves to London
The Elizabeth West Mysteries
Non Fiction and Other Works
Freewheeling Tony's Bicycle Book
Sugar Free Cooking in Sue's Vegetarian Kitchen
Cider Drink It Make It Cook with It
Melting Moments
Find me on Facebook: https://www.facebook.com/anthonye.thorogood